Annual Campaign Goals and Successes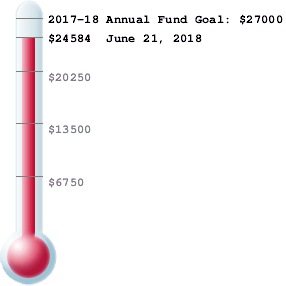 Together We Give
2017-18 Annual Campaign Goals
• Raise $27,000 by June 30, 2018
• Obtain 100% participation from current families, board and staff
2017-18 Annual Campaign Successes (As of 6/21/18)
• Funds Pledged/Donated:$24,584
• Board Participation: 100% (14th Year in a Row….Amazing!)
• Staff Participation:100% (14th Year in a Row….Such a generous group of educators!)
• Family Participation:71%
2016-17 Annual Campaign Successes
• Funds Pledged/Donated:$27,754 (We exceeded our goal of raising $25,000! Thank You.)
• Board Participation: 100%
• Staff Participation:100%
• Family Participation:89% (Third Highest Rate in 13 years….Wonderful!)
2015-16 Annual Campaign Successes
• Funds Pledged/Donated:$25,094 (We exceeded our goal of raising $25,000! Thank You.)
• Board Participation:100%
• Staff Participation:100%
• Family Participation:91% (Second Highest Rate in 13 years!)
To Give a Sustaining Gift Online with a Credit Card

Please click on the blue and white DONATE NOW button to the left.
To Make a Check or Cash Donation
Please print and complete our annual giving pledge form. Send the form and your donation to:
Bala House Montessori
27 Conshohocken State Road
Bala Cynwyd, PA 19004
We would like to thank all of our donors in advance for their support of our school! If this is your first contribution, we would like to welcome you to our community. If you have contributed before, we would like to thank you for your continued generosity.